SEO
What is Off-page SEO?
So, we learned about on-page SEO in our last blog, but do you believe that's enough to get your website on the top page of Google? No, it isn't. Every marketer starts with on-page SEO, but a wise marketer goes beyond the on-page SEO of your website to boost organic search traffic to your business. Off-page SEO is a vital SEO tactic that helps your business gain visibility, create trust, and raise awareness.
Let's take a look at off-page SEO
Off-page SEO refers to any SEO actions and methods that occur outside of your website.
Off-page SEO is sometimes confused with link-building, but it covers much more.
This SEO approach includes tactics such as content marketing, connecting with your audience outside of your website, listing in directories, and more. These improve your website's rating without requiring you to make any modifications to your site.
Off-page SEO generates traffic back to your pages while also demonstrating to search engines that your website is trustworthy. It increases the domain authority of your website. When it comes to ranking pages, link building is a crucial off-page SEO practice that signals Google's algorithm. Aside from link building, there are many other off-page tactics that help you grow your brand's organic search traffic, like brand building, content marketing, guest posting, etc.
Importance and need:
Before ranking a page/website, Google examines a variety of factors, including off-page considerations.
It's tough to rank only on the basis of content; here is where your off-page or link-building efforts come into play. It informs Google what other people think about your site, which is why having backlinks from high-quality, relevant websites is crucial. Off-page SEO aids in the recognition and domain authority of a website. Without it, your site will continue to fall behind websites that already have a significant advantage. While links aren't the only off-page signals used by Google's algorithm to rank a website, they are the most important. There are, however, plenty of different off-page SEO approaches or tactics that you should be implementing. This will aid you in off-page SEO content marketing success as well as brand growth. Simply said, without off-page SEO, firms would struggle to rank for competitive search phrases.
If you've ever spoken off-page with someone, you've probably come across two of the most commonly used terms: do follow links and no-follow links. Let's learn more about them.
Do follow links:
A do-follow link is sort of a link that permits Google bots or spiders to send link juice or value to the connected site or webpage.
For example, if a well-known fashion magazine, let's call it X, publishes an article on their website and provides a do-follow link to a relevant firm, let's call it Y, X is transferring part of its value to Y. This value aids Y in achieving a higher PageRank and a higher SERP ranking.
Adding a relevant term as the anchor text is the ideal approach to employ a do-follow link. The amount of do-follow links you receive to your website, as well as the number of different sites from which you receive them, are tracked by Google. The more do-follow links from various and relevant domains that are transmitted, the more value is passed.
This is how do-follow links look like:
<a href=" https://www.sinss.in">SINSS Digital marketing agency</a>
No, follow links:
A No-Follow link is one that will not be followed by Google bots or spiders. They will not pass any link juice or value to the page to which the link is directed. No-follow links have no effect on rankings but were created in order to prevent online spam.
This is how no-follow links look like:
<a href=" https://www.sinss.in" rel="nofollow">SINSS Digital marketing agency</a>
There are three major types of links:
Natural links: They are generated by the editing process and do not need any intervention on the part of the page owner. A natural link might be a food blogger putting a link to a post pointing out their favorite product.
Manually constructed links: They are the result of intentional link-building actions. Getting consumers to link to your website or encouraging influencers to spread your material are examples of this.
Self-created links: They are made by placing a backlink with optimized anchor text in an online directory, forum, blog comment signature, or press release. Search engines frown on some self-created link-building strategies since they are considered black hat SEO.
Important factors to consider while doing SEO:
It's crucial to think about Domain Authority while undertaking off-page operations. The quality of a website is represented by domain authority, or simply DA. When a backlink from a higher DA website goes to a lower DA website through a do-follow link, the lower DA website gains a higher page rank.
It is crucial to obtain links from sites with a higher domain authority (DA), but it is even more important that these sites be relevant to the one to which you wish to connect. For example, if you obtain a link from a high-DA fashion company to your website about a car dealership, it won't make sense, and having too many unrelated backlinks might cause algorithms to penalize you.
It's crucial to know how much traffic these sites/people may generate towards you while undertaking off-page activities like forum posting, blogger outreach, and so on. For example, if you want to perform some blogger outreach or forum submissions, you may use a chrome extension like SEO Meta in Click to examine the traffic on such sites. You can begin the activities once you've confirmed that the site obtains a sufficient level of traffic.
When it comes to link building or off-page activity, there are two sorts of links that we may create. As previously stated, they have both follow and no-follow links.
10 OFF page SEO techniques to use in 2022
1. Creating Shareable Content
In search engine optimization, great content is always king. Creating incredible, one-of-a-kind, and shareable content is an excellent strategy to increase the number of natural backlinks to our website or blog. Keep your material fresh and up to date by conducting frequent research.
Upload the files to document-sharing platforms.
2. Reaching out to influential people
Don't be afraid to reach out to influencers in your field if you've developed any form of shareable material. Tell them to check out your blog and ask if they'd want to link back to it.
Make sure the links are from domains that are absolutely relevant.
3. Assist as a Guest Author
Several high-quality sites are accepting guest contributions from a variety of authors.
Write a fantastic research paper and send it to them with the guest post material. Don't worry about the number of connections; instead, concentrate on the quality of the links. Also, don't keep publishing on the same guest blog site many times.
4. Engagement in social media
Social media interaction is an important Off-page SEO approach. Engage with people on different social media channels if you want to make your business, website, or blog popular.
Your social media presence will aid in the growth of your business as well as the acquisition of additional backlinks.
5. Social Bookmarking Sites
Social bookmarking sites are some of the best platforms to promote your website. When you bookmark your webpage or blog post on popular social bookmarking websites, you gain high traffic to your webpage or blog.
6. Forum Submission
Participate in search forums connected to your website and business and establish a relationship with the members of that community.
Respond to discussions, answer questions, and offer advice and recommendations.
Join high-PR question and answer sites and look for queries that are relevant to your business, blog, or website, then provide precise replies.
Provide a link to your website, which can assist you to gain more exposure.
7. Submitting to directories
Directory Submission is always trying to increase the number of high-quality backlinks.
Choose an appropriate category and an effective directory.
It takes a long time to get good results, but once achieved, they stand out throughout time.
8. Video/Article Submission
Submit your articles/videos to an article submission directory with a good PR. You may also provide hyperlinks to your own website. Make sure your material is one-of-a-kind and of excellent quality.
Low-quality content, as well as content with excessive keyword stuffing, may be rejected. Select the appropriate category for your material and optimize the title, description, tags, and referral links. It is one of the most common methods for obtaining high-quality backlinks.
9. Infographics/Image Submission
Submit your infographics and photographs to well-known infographics and image submission platforms. Make interesting infographics, as they are becoming increasingly popular on social media. Please make sure your photos or infographics include the right URL, description, and title tags before submitting them.
10. Use Google My Business
Another free Google product is Google My Business. Optimize this platform to achieve the highest local SEO ranking possible. We can produce a good amount of social traffic and brand exposure by properly optimizing the content and links. To get the most out of this website, you'll need a 250-character description that contains your city's name. Maintain consistency in your product or give updates. Keep an eye on your reviews and respond as soon as possible.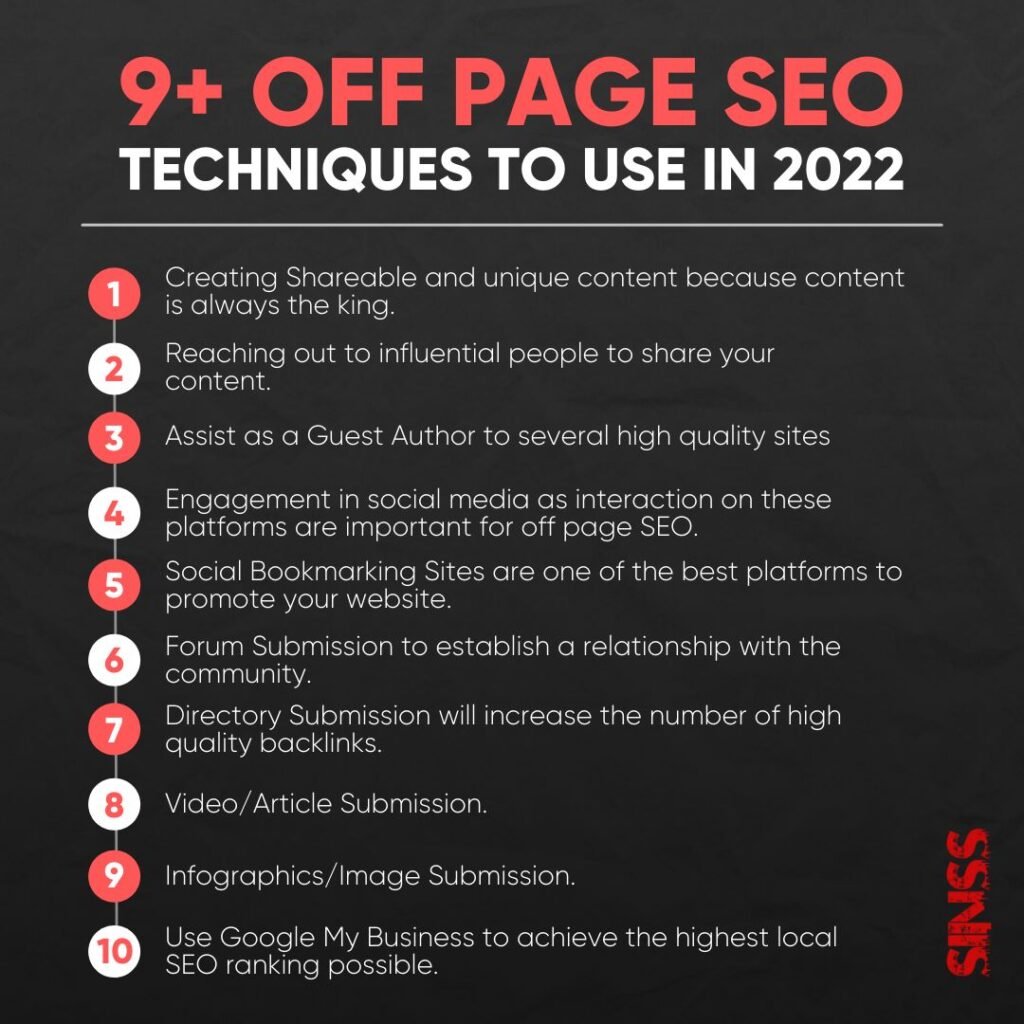 Conclusion:
As a result, we've addressed off-page SEO in this blog. To rank your website on Google, it's just as crucial as on-page SEO. Off-page SEO assists us in engaging the audience in order to achieve our marketing objectives, and a few tactics are discussed for the future year that might assist you in mastering off-page SEO.